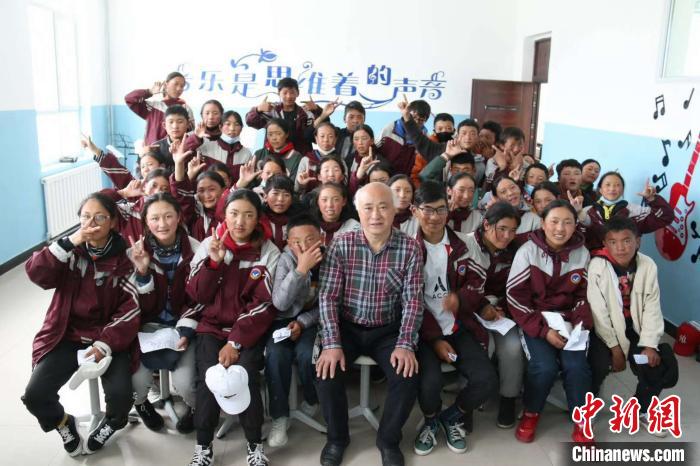 Zhao Xingzhou and the students of Jiuzhi County Nationalities Middle School
60-year-old Zhao Xingzhou is a biology teacher at Yangliu Middle School in Jiading District, Shanghai. In 2019, he signed up to participate in the Aid Qinghai education work of the Jiading District Education Bureau of Shanghai. Because he is good at playing many different musical instruments and has organized a band, Zhao Xingzhou was appointed to the Jiuzhi County Nationalities Middle School in Golog Tibetan Autonomous Prefecture, Qinghai Province, which stands at an altitude of about 4,000 meters, as the only music teacher in the school.
He arrived in Jiuzhi County for the first time in October 2019. High altitude sickness made him sleepless at night and everyone thought he would not endure more than a week.
"When I am in class teaching the students, I would forget about the uncomfortable feelings of high altitude sickness," he said. Half a month later, Zhao Xingzhou was able to adapt to life on the plateau.
Jiuzhi County Nationalities Middle School is equipped with more than 20 musical instruments, such as piano, erhu, violin, and drums. However, due to the shortage of music teachers in the local area, these musical instruments have been kept in a warehouse. They were in disrepair and lacked parts, and the students had never had a music lesson.
Zhao Xingzhou remembered the first time he gave the students a music class. They stared at the instruments curiously, their eyes "shining".
"Most students are Tibetans, and being able to sing and dance is their innate talent. But in fact, music lessons are not simple singing lessons. They should also learn music theory and music appreciation." Starting from basic music theory, Zhao Xingzhou taught them to read music, how to audition, how to play musical instruments. After a month, most students were able to read musical scores.
13-year-old Tenzin Gengzom learned to play the electric organ from Zhao Xingzhou, and she was able to play and sing within one semester. In the future, she wants to enter the Conservatory of Music to see the outside world.
In July 2020, Mr. Zhao finished his one-year Aid Qinghai teaching job and returned to Shanghai. But he never forgot the students of Jiuzhi County Nationalities Middle School.
"Before I left last semester, I promised the students that I would try to give them music lessons this semester." On September 16, Zhao Xingzhou, who is nearly 60 years old, returned to Jiuzhi County Nationalities Middle School to fulfill his appointment with the students.
Zhao Xingzhou was surrounded by the students when he got out of the car.
"Mr. Zhao, you are finally back!"
"Mr. Zhao, we missed you so much!"
"Mr. Zhao, no teacher but you will give us music lessons."
  ……
"Going back to Jiuzhi again, I want to form a small band while teaching the Tibetan students more about music. In the future, I want to take them to Shanghai to participate in a music festival and show them the world outside the plateau," Zhao Xingzhou said.