Ma Jinyu wearing a sombrero overlooks the Qinghai-Tibet Plateau. [cctv.com]
Ex-journalist Ma Jinyu gave up her career in the media after she married her ethnic Tibetan husband in 2010, and moved to the rural countryside to start a new life selling artisan honey products online.
Ma, 38, a native of northwest China's Xinjiang Uygur Autonomous Region, tied the knot with Zhaxi and settled down later in his hometown in Guide, a county in northwest China's Qinghai Province.
She first got a job as a reporter in 2000 and used to work at some of China's most popular media outlets including Beijing News and Southern People Weekly.
Ma was so highly esteemed as a journalist that she even received the Asia Journalism Award, one of the top honors in the industry, as bestowed by the global press organization WAN-IFRA (The World Association of Newspapers and News Publishers).
Nowadays, Ma enjoys her pastoral living in the vast steppe on the Qinghai-Tibet Plateau, which is China's largest and the world's highest plateau.
She wears local Tibetan costumes and enjoys making fires with cow dung that she collects during the day. Ma picks up the material with her bare hands, because all the livestock has been raised naturally and organically, she explains.
Ma shares a tip about the organic matter, saying that it is excellent material for making fire in such a low atmospheric pressure environment and it can be used to boil water quickly.
'Unbelievable' Love on the Qinghai-Tibet Plateau
Ma recalls that she fell in love with Zhaxi the first time they met in 2010.
Back then, she was conducting a series of interviews with different beekeepers across the country and the plateau was the last region she covered. The reporting task was assigned to her that year by her then working media Southern Metropolis Daily, Ma remembers.
Through their meeting, Ma got a basic understanding of Zhaxi, who began learning about beekeeping from his father at their family-owned business when he was 13.
Introverted Zhaxi blushed when he saw the female journalist and later developed a romantic relationship with Ma on his own initiative, the proud wife explained.
From Ma's former colleagues to Zhaxi's neighbors, their first reactions were the same. They thought it was "unbelievable" how the young couple bonded so quickly and how they decided to marry so soon. It happened just after one month of exchanging phone calls, a colleague stated.
More surprisingly, friends initially could not help wondering why the couple decided to settle down in the region.
As Ma is outgoing while Zhaxi is reserved, the two actually matched well and gradually influenced each other, one neighbor suggested.
Therefore, "the first word I learned in the Tibetan language was damoxi, which means to slow down," Ma recalled.
Ma's Determination in Developing E-Commerce
Besides the attraction of the serene landscapes on the plateau, another reason for the couple to settle down there was due to a car accident they had in 2012. This sudden misfortune resulted into severe injuries to Ma and her 2-month-old baby, who survived after 19 days in intensive care.
Facing expensive medical fees, the husband became frustrated that his beekeeping business could hardly cover the bills, he recalled.
To better care for their child, Ma decided to quit her job as a journalist and live in the area. She was determined to make a difference in business by selling the cheap local honey but marked up at a high price for the urban markets, highlighting its organic credentials, Ma said.
Her innovative idea was initially regarded as crazy. The Plateau residents had never heard of the idea of e-commerce, let alone believed that their products could be sold in cities like Beijing, Shanghai and Guangzhou.
According to the husband, Zhaxi used to sell his honey in the adjacent area at the price of 8 yuan (U.S.$ 1.20) per kilogram.
In comparison, Ma reported that she sells a jar of the same product at the price of 40 yuan (U.S.$ 6) per kilogram, and almost five times the other price.
Meanwhile, the honey comes in a package made from local pottery, and is wrapped in beautiful paper that is made in the area as well, Ma explained. These extras take advantage of ethnic handcrafts for further utilization. Most importantly, though, customers value the organic quality most, she added.
Later, the couple extended their business to sell more Tibetan agricultural products collected from other households, Ma said.
Meanwhile, she is particular about the quality of the products and often has arguments with her husband over the topic.
"Once, we drove to meet a local person who had agreed to offer us some new items," Ma recalled. "However, when we arrived, we found out that his products were not as good as we expected."
In contrast to Ma's denial on the items, Zhaxi insisted to take them whatever the quality is, as the buyer and seller have previously reached the agreement to come and collect them.
Also, the products' quality was totally affected by the weather and climate, a concept believed by Tibetans that they are bestowed by nature instead of under human control, Zhaxi explains.
The couple began to learn to compromise and understand each other since then.
With an annual revenue of around 5 million yuan (U.S.$ 750,000) from the online shop, Ma's successful business has inspired many local residents to have an insight and play a role in the latest e-commerce activities.
Zhaxi takes a bite of a local flower to check its quality. [cctv.com]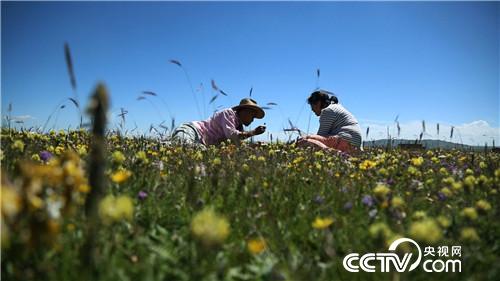 The couple choose the perfect wildflower area on the steppe to allocate bees for further honey production. [cctv.com]
Honey dribbles into a bucket from a beehive. [cctv.com]
A close look of the high-intensity honey made on the Qinghai-Tibet Plateau [cctv.com]
Jars of honey contained in Tibetan pottery and wrapped with local ethnic papers are lined up ready for sale. [cctv.com]